Sloppy Joe Simmering Sauce
Remember those tasty Sloppy Joes that were once a staple in school cafeterias and in every home in America? Sweet and spicy they first became popular in Key West in the 1930s. Our sauce is all grown up with peppers, onions and just the perfect amount of spice for a great tasting, easy-to-make lunch or dinner. So, grab the buns, plenty of napkins and enjoy!
1 jar serves 6
Directions: Heat 1 tablespoon oil in a skillet. Add and saute1 1/4 pounds ground beef. Cook over medium-high heat and stir until meat is browned, drain off fat. Add one jar of Sloppy Joe Sauce. Reduce heat and simmer uncovered for about 10 minutes. Spoon onto 6 slightly toasted sandwich buns. Serves 6.
Ingredients: Tomatoes (tomatoes, salt, citric acid), Water, Tomato Paste, Brown Sugar, Red Bell Pepper, Green Pepper, Onion, Garlic, Dijon Mustard (water, mustard seed, vinegar, salt, white wine, citric acid, turmeric, tartaric acid, spices), Worcestershire Sauce (distilled vinegar, molasses, water, sugar, onions, anchovies [fish], salt, garlic, cloves, tamarind extract, natural flavors, chili pepper extract), Cider Vinegar, Balsamic Vinegar (naturally occurring sulfur dioxide), Canola Oil, Beef Flavor Broth Concentrate (beef stock, natural flavor, salt, yeast extract, sugar, beef fat), Spices, Salt, Paprika, Chipotle Pepper
Allergens: FISH
Non-Gluten Ingredients
Made in USA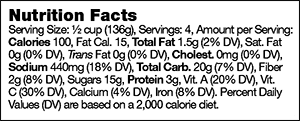 0
stars based on
0
reviews